This post originally appeared on Single Grain, a growth marketing agency focused on scaling customer acquisition.
Content marketing is by far one of the best ways to grow your brand and generate profitable leads. So why do many brands only receive modest ROIs from that content?
There are two main reasons:
They don't set clear goals

They don't have data to measure their performance
There's no excuse not to track the performance of your content marketing campaigns when there are so many powerful analytics tools on the market. Google Analytics is one of the oldest and most useful analytics tools available, making it the core of any good content marketing strategy.
Making the Most of Google Analytics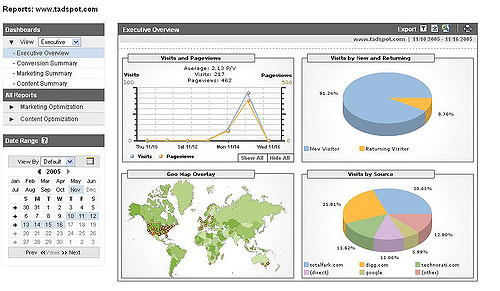 Google Analytics is by far the world's leading online analytics solution, given that an estimated 30 to 50 million websites around the world depend on it.
However, many marketers don't understand its full potential. Google Analytics offers many features that let you create custom reports and get very detailed information about your visitors. In particular, you'll want to familiarize yourself with the following  features in order to better optimize your campaigns:
1. Audience Reports
Audience reports provide a massive amount of information on your users. Some of the data that you can uncover with Audience reports includes:
User Loyalty
Check the active users' data under the Audience reports dashboard. Doing so will show you how many times visitors returned to your site over different time intervals, ranging from one to 30 days.
ROI from Marketing Channels
The Audience reports section allows you to track the lifetime value of each user. You can also use this feature to figure out the value of users acquired from different marketing channels, enabling you to determine the ROI of your AdWords, media buying, email marketing, and other campaigns.
Read More: 44 Ad Networks that Will Help Open Up New Channels of Growth For You
Demographics
Knowing the demographics of your users is an often-overlooked aspect of many content marketing campaigns. The Audience reports section provides this detailed demographic information, including the age, gender, and interests of your visitors.
Take the example of Scott Perry, Director of E-commerce at Jerome's Furniture, who found that his Google Analytics reports suggested that women convert 30% better than men and spend nearly twice as much. Based on this data, his company invested more heavily in reaching women through display advertising.
He also found that visitors browsing real estate sites converted 50% better, prompting him to increase spending on that demographic as well.
Too many brands ignore the demographic data available in Google Analytics because they think they already know which visitors are most interested in their products. Don't make this mistake. You may be surprised that the demographics of your best-converting customers are different than you expected.
Of course, there is one caveat to be aware of: Google Analytics doesn't appear to be as accurate at identifying visitor ages as gender and affinity information. Don't ignore it entirely, but for now, take that data with a grain of salt until Google's methods become more precise.
Language and Location
Identifying the language and location of your visitors is also obviously very important, especially for local businesses. You should already have a rough idea of where your visitors are coming from if you're running campaigns on AdWords (unless, of course, you didn't set your targeting properly).
However, you might be surprised by the locations of visitors from organic search, direct media buying, and other marketing campaigns that don't have the same targeting capabilities.
This is where Google's geo data comes in handy, as you can use it to find out which referrers are providing customers in your target region.
Unfortunately, this data isn't that helpful for optimizing your organic search campaigns as it used to be, as Google stopped sharing the data on keyword referrers for organic traffic (though it still provides this data for AdWords campaigns).
This means that you won't be able to identify keywords that are providing a lot of traffic from customers outside your target market. However, you can at least pay attention to the conversion rates of organic search visitors within your target demographic, which will help you to better optimize your landing pages.
Read More: How to Do a Content Cleanup (And Grow Your Organic Traffic)
2. Acquisition Reports
The Audience reports section provides detailed information about the people visiting your site. Acquisition reports tell you where these people came from.
The data in these reports is key to optimizing your campaigns, as it will enable you to identify the referrers that are driving your conversions and thus better optimize those campaigns.
Here are some tips to use these reports to drill down and optimize your campaigns at an even higher level:
Make Sure Conversion Goals are Set Up
Before you start analyzing your Acquisition reports, make sure your conversion goals are set up properly. If you haven't done so, your Acquisition reports can still identify the referrers that are driving traffic to your site, but you won't be able to tell which referrers are driving conversions.
Identifying conversions is particularly important if you're relying on paid traffic, such as AdWords. You're investing a lot of money in your advertising campaigns, so make sure you're getting the data you need to optimize them.
Start with Channels
The Channels section gives a broad overview of all of the places that are driving traffic to your site. It breaks traffic down by various sources, including organic search, direct, and referral.
One of the great things about the Channels section is that it provides a graph to help you visualize which places are giving you the most traffic. You can click on each of these sections to find more details on the people visiting your site.
Look at Individual Referrers
Take a look at the individual referrers that are driving traffic. These referrers are broken up by domain, so you can identify the specific sites and advertising platforms that are providing the most visitors.
There are a couple ways that you can look at the referrers to your site:
Check the "All Referrers" tab

Click on the Referrers section in your Channels dashboard
Pay close attention to both the volume of visitors from each of your referrers and the ROI that you're receiving from them. You may find that some traffic sources such as StumbleUpon provide a huge volume of traffic, but have low conversion rates.
Keywords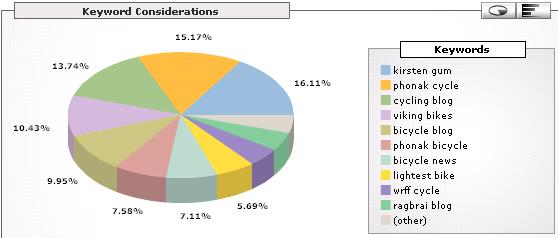 The keywords section is probably the most important part of your Acquisition reports, and it's crucial if you're relying on paid search traffic from AdWords or Bing.
Many new marketers are surprised by how much their keywords affect conversions. A visitor who clicked on your ad while searching for the phrase "Houston real estate company" may be much more likely to convert than a visitor who was searching for the phrase "Houston real estate agent." You have no way of knowing that until you launch your campaign and check the data from your Acquisition reports.
Campaigns
Tracking conversions from every single ad, landing page, keyword, and referrer can be tedious. Sometimes it's better to just get a general idea of which practices are working.
To do this, break down your content marketing strategies into different campaigns. Make sure your campaigns are as granular as possible so you can get detailed data on which practices are working. You may want to have several different AdWords campaigns (each of which may have a different landing page or angle), a campaign for native ads with your blog posts, and another for organic search traffic.
You can easily look at the data from your various campaigns to see which are converting best, and this will save you countless hours that you would otherwise spend drilling down through all of your referrers, web pages, and keywords to look for trends.
3. Other Reports

There are a couple other valuable reports, but they aren't quite as comprehensive, so I'll just give a brief overview here. Behavior reports are one of the first to take a look at. They provide some detailed information on the actions that users take on your site, including:
Average time on your site and individual pages

Total page views for each web page

Bounce rate

Exit pages
Your Behavior reports can help you optimize your content marketing strategy by monitoring how visitors engage with your content.
The Conversions reports is another section worth looking at, as it provides a detailed overview of all your conversions. You can also monitor this information from other sections in Google Analytics, as listed above, but this section saves you a lot of work, as it allows you to see detailed information in one place. Use this data to determine which strategies to scale and which to abandon.
Read More: LeadPages CEO Clay Collins Talks About How To Ramp Up Your Conversion Rates (Up To 75%!)
You Can't Optimize Your Content Marketing Strategy Without Google Analytics
There's a reason that tens of millions of websites use Google Analytics – it's hands down the best free analytics tool on the web. If you don't already have it set up, make it a priority today. Truly, you won't be able to optimize your content marketing strategy without it.
What other interesting insights have you noticed by using Google Analytics? Share your insights in the comments below:
Images: Pixabay, Flickr, Flickr, Flickr
Disclaimer: As with any digital marketing campaign, your individual results may vary.